For adults and kids alike, eye exams go beyond helping you achieve clear vision. An optometrist can look for early warning signs of eye diseases and offer proactive treatment that can safeguard your overall health. By seeing your eye doctor regularly, they can detect small issues before they become large problems.
A general eye exam schedule indicates that adults under 65 should have an eye exam at least every 2 years, and children 19 and under should have an eye exam every year. Depending on pre-existing vision problems, you may need to visit more often.
Deciding Your Eye Exam Schedule
The Canadian Optometric Association (COA) recommends the following schedule for eye exams:
6–9 months old: 1 exam
Ages 3–5: 1 exam
Ages 6–19: 1 exam annually
Ages 20–64: 1 exam at least every 2 years
Ages 65+: 1 exam annually
The Ontario Health Insurance Plan (OHIP) covers eye exams every year for children under 19. OHIP covers 1 exam every 18 months for seniors over 65, and may cover eye exams more frequently for seniors who have specific eye conditions. To determine if your eye condition is covered for additional exams, get in touch with your optometrist.
Why Are Eye Exams Important?
Eye exams are not just about checking your prescription for glasses or contact lenses. Eye doctors measure your visual acuity and check for refractive errors like:
They also check for:
In addition, eye exams could also detect underlying general health conditions that may have subtle ocular symptoms, like diabetes, high blood pressure, or even cancer.
This is why some people may need to see their optometrist more frequently. For example, adults with diabetes should see their optometrist yearly. If you're ever in doubt, follow your optometrist's recommendation if you're at risk of eye health conditions.
What Happens During an Eye Exam?
During an eye exam, your optometrist performs a variety of tests with diagnostic tools to construct an overall image of your eye and vision health. An eye exam includes several tests, but your optometrist may perform others depending on your unique health needs, like optical coherence tomography (OCT). That's the benefit of seeing your regular optometrist: they can track your family's eye health and determine the tests suited for your needs.
Interview & Medical History
Whether it's your first time or your twentieth time, your optometrist wants to know how your eyes are feeling. We may ask about your current symptoms or the medications you're taking. If it's your first time seeing a new optometrist, we'll also want to know about any family history of eye disease or previous eye surgeries.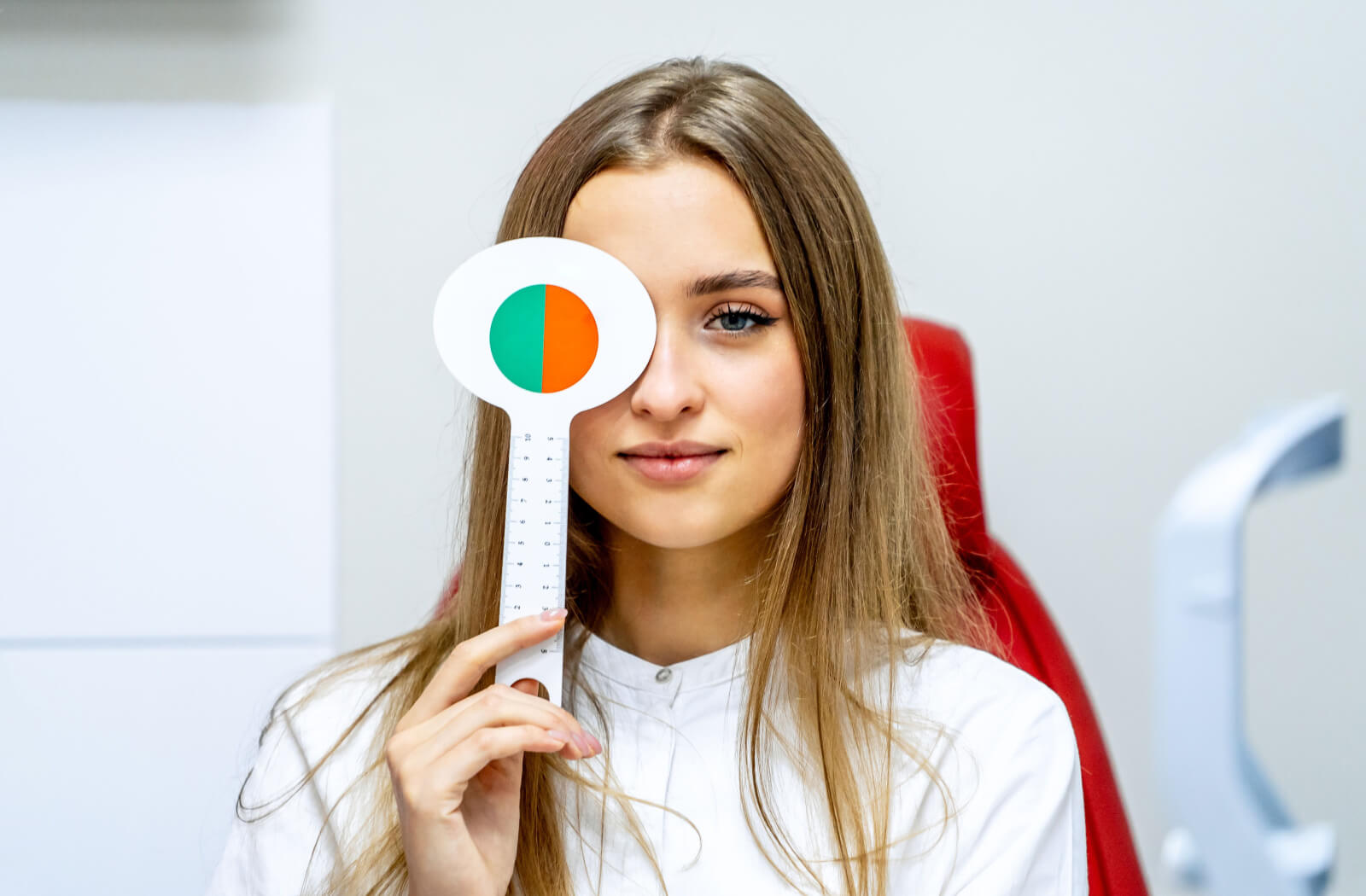 Visual Acuity Test
A visual acuity test measures how well you can see at varying distances. You'll likely sit in front of an eye chart that has rows of letters or numbers of different sizes and you will have to cover each eye so we can measure them individually.
As you read out each line, your optometrist can determine whether you have underlying vision issues or need a new prescription.
Refraction Test
A visual acuity test usually crosses over with another exam, known as a refraction test. This test is essential for determining the kind of prescription you need. Like the visual acuity test, you'll read lines off a chart. But this time, you're doing it while looking through a mask-like device called a phoropter, which allows your optometrist to swap between several lenses.
In this test, you let your optometrist know which lens gives you the sharpest vision.
Your optometrist may also use an auto-refractor. This device shines a light into your eye and objectively measures how it reflects off your retina, the layer of cells at the back of your eye. Near and farsightedness, as well as astigmatism, all affect how light passes through your eye and reaches the retina.
Eye Health Exam
Your eye can tell us a lot about your overall health. The eye health exam may involve a slit lamp, which allows your optometrist to peer into your eye and get a closer look at your cornea, retina, and optic nerve.
Your optometrist can also use an imaging device to photograph your retina. The retina is unique because it's the only place in the body where we can view the blood vessels live! With these images, your optometrist can watch for changes in your blood vessels that could indicate a health concern.
Optical Coherence Tomography (OCT) Testing
For a comprehensive view, we can use optical coherence tomography (OCT) to see a cross-section of your retina's layers and optic nerve. This technology is vital for uncovering warning signs for:
Macular degeneration, which affects your central vision
Glaucoma, which affects your peripheral vision
Diabetic retinopathy, which affects your overall vision
Glaucoma Testing
Glaucoma is a group of degenerative eye diseases affecting the optic nerve and 1 of the leading causes of blindness.
The most common type of glaucoma is associated with fluid pressure building up in the eyes. There are typically no early warning signs for this type. However, your optometrist can perform a tonometry test to measure your intraocular pressure (IOP).
A non-contact tonometry test involves your optometrist using small puffs of air against the cornea to measure the IOP.
Family-Friendly Eye Care in Stoney Creek
At Stoney Creek Optometry, we're all about safeguarding your precious vision. With our friendly team and diagnostic technology, we're well-equipped to do just that. Your family's vision is a special thing, so we want to detect issues early and nip them in the bud with effective treatments.Check your schedule, then request your eye exam today.